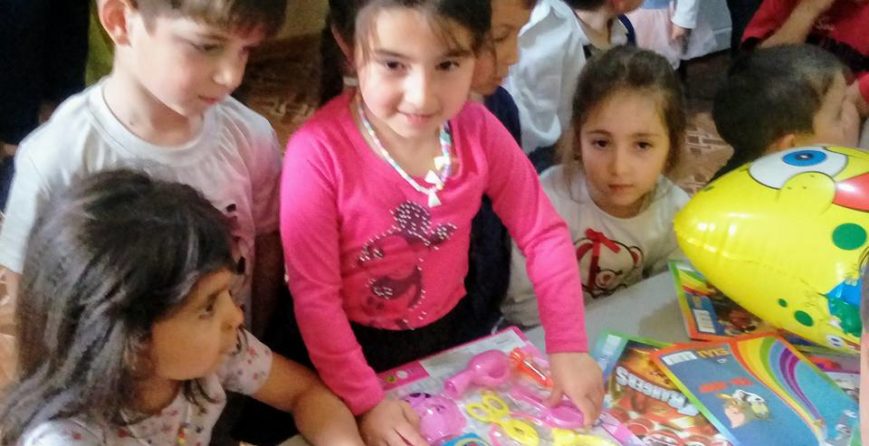 Completed
Playground shelter for the children of Aygepar
| | |
| --- | --- |
| | |
| Location | Tavush, Berd area |
| Program description | Transforming the current unused storage rooms into safe playground shelters, equipped with furniture, carpeting, toys and games, and appropriate air ventilation. |
| Program status | The program will be launched as soon as necessary funds are gathered. |
| Prices | $4950 |
| Amount raised | $5000 with support of Hayk Vokal Quartet and Canadian-Armenian diaspora in Montreal |
| Effect | In perfect conditions, children will find themselves in a safe environment where stress and fear will be reduced, and positive environment for friendship and play will be formed. |
| Project Management | Pahapan Foundation will monitor the project by ensuring its implementation within set deadlines, and the program results will e published on the website. |
BACKGROUND
Aygepar is one of the villages situated closest to the border with Azerbaijan. It borders the Tavush area's Alibeili village, 64 km south-east of Berd administrative center and is one of the most endangered villages, being the direct target for Azerbaijani snipers. Aygepar has a secondary school, cultural center and a kindergarten. The population is about 700 people. In August of 2014 Aygepar, along with other adjacent villages, became under attacked with firing bullets weaponry of different sizes.
NEED
Aygepar's kindergarten is attended by about 30 children and managed by 8 teachers. The building does not have a basement, but has a 40sq/m storage area. The kindergarten has recently undergone renovations with the efforts of local authorities and charity organizations. There is a small, 6 sq/m simple shelter in the school yard, which however is not usable. With your support, Pahapan will be able to renovate the storage area and transform it into ground floor playground shelter and to equip it with furniture, TV, fridge, play area, heating system, toys and books. All of these will help the children to spend the dangerous moments in safe and joyous environment and to avoid the stress during school years.
The funds for renovation were raised by Hayk Vocal quartet from Montreal and Armenian-Canadian diaspora, complemented with kind contribution of the Dutch-Armenian community and  family of Mr.Anton Vankalmthout. Pahapan foundation on behalf of  children in Aygepar expresses its gratitude for the provided support and deepest appreciation of all benefactors and supporters of this cause.
Canadian - Armenian HAYK VOCAL QUARTET