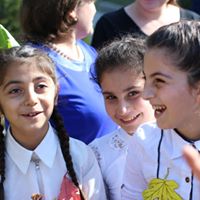 Completed
Playground-shelter N9 for children in Aygehovit
Aygehovit is located in the Tavush region, on the right bank of the lower stream of the Aghstev River, 17 km north-east of Ijevan. Height from sea level is 760 m. It is bordered by Azerbaijan and is therefore subject to very frequent shots from enemy positions located 1.5-2km from the village. The population of the village is 1523 people, about 300 of whom attend school.
NEED:
The only school in the village has a basement with three rooms. The large room is currently used for boxing training, but can become a hideout after the necessary repair. The other two rooms are used as classrooms. The school entrance needs a protective wall.
The three rooms of the shelter need to be repaired, change the floor cover, install a powerful ventilation system and provide furniture. One of the rooms needed to provide a safe exit for children to access the school from other parts of the school.
The shelter was completely renovated, equipped and protective wall erected with full support of benefactor honorable Mr.Avedis and Hovig Moushian. We deeply appreciate the genersity and kind support provided for this shelter.
HOVIG and AVEDIS MOUSHIAN, CANADA