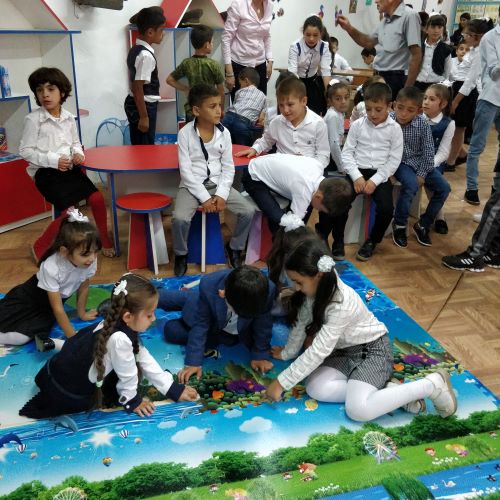 Completed
Chinari village playground shelter
| | |
| --- | --- |
| Project Name | Playground shelter for Chinari School |
| Location | Tavoush |
| Project Description | Conversion of existing basement into a safe shelter with sanitary, ventilation, school and play furniture. |
| Project Status | To start as soon as funding is secured |
| Project Cost | $1700 |
| Funding raised | $1700 with support of Canada-based Hayk Vocal Quartet and Mr.and Ms.Vankamtout |
| Impact | To provide a safe environment for children and teachers attending the school. This will help to overcome their emotions and fear in emergencies. |
| Project Management | Pahapan Foundation will supervise the project to make sure its completion on time and it will be reported on web site. |
Background
Chinari is a village in the Tavush Province of Armenia.  Bordering Azerbaijan Chinari is one of the most dangerous villages on the Armenian-Azerbaijani border. The village buildings, school, kindergarten are under the constant target of the enemy's military. The village was subject to frequent fire attacks in December, 2016 and January, 2017. 2 soldiers and an officer were killed. The civilians of Chinari village had been attacked as well. On July 20, 2017, Chinari village was subjected to lengthy shelling, as a result of which the kindergarten of the village, houses of the villagers, their property and grass heaps were damaged. During the intense shelling of the kindergarten representatives of the Armenian Red Cross were in the village. They were conducting a course of first aid, when the shots were heard. Despite all these the villagers do not leave Chinari and live their normal lives.
Need
Chinari has a school, a library, a kindergarten. Chinari school has more than 138 children in attendance. Its basement has been repaired by municipality with assistance of ICRC. But the place still needs to be transformed into a safe playground shelter by  provision of proper equipment. The Pahapan foundation will support the project providing necessary equipment, sanitary facility, toys, mats, books, board games and furniture in order to make the place most comfortable for children and their teachers while they have to hide during frequent fire attacks.
The cost for renovation is almost $ 1700 (82000 Arm drams).
The project was implemented with funds raised by Hayk Vocal quartet from Montreal and Armenian-Canadian diaspora, as well kind contribution of the family of Mr.Anton Vankamtout from Netherlands. Pahapan foundation on behalf of Chinari schoolchildren expresses its gratitude for the provided support and deepest appreciation of the efforts taken.
It will be our pleasure welcoming you for visiting the village and seeing the school you helped.
Anton VanKamtout family, Nevetherlands and Hayk Vokal Quartet