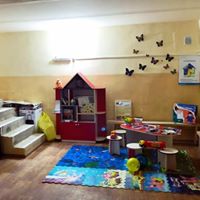 Completed
N.8 Koti village shelter and playground
| | |
| --- | --- |
| Project Name | Playground shelter for Koti School |
| Location | Tavoush |
| Project Description | Conversion of existing unused basement into a safe shelter with sanitary, ventilation, school and play furniture. |
| Project Status | IN PROGRESS |
| Project Cost | $3560 |
| Funding raised | $3560 with great contribution of Fichidzhan family from US,  fundraising support of Ms.Lyuba Tatevosyan, Narek Aslikyan and SHarmagh Sakounts and their friends.  |
| Impact | To provide a safe environment for children and teachers attending the school. This will help to overcome their emotions and fear in emergencies. |
| Project Management | Pahapan Foundation supervised the project to make sure its completion on time and it will be reported on web site. |
Background.
Koti is a village in Tavoush Province of Armenia, it has a population of 2000. Life in this village is rather difficult as in recent years its inhabitants have lived under random sniper fires of the Azerbaijan military. This village is very close to the border and serves as a border guardian.
The large Koti School in the village has 200 pupils and some 30 staff. It building has been damaged numerous times but still active and serving the community. In September 2015, two residents of the village were injured, firing bullets hit some villager's homes damaging properties and vehicles and burning their hay bales. This life continues.
Need
The Koti School has a large basement with 2 rennovated room of 81q meters in total. It is intended to transform the basement into a playground shelter for its kindergarten children. The basement will be equipped with a sanitary unit, ventilation system and furnished with children's play games.
In conjunction with Tavoush Municipality and the village mayorship has already secured funds from the ICRC to renovate the basement, while the Pahapan Foundation will care for the furniture, equipment, electric generator, TV , playground and toys and a fridge. All labour will be employed from the village and the material equipment will be resourced from Tavoush helping to boost temporary jobs and the local economy.
The project funding was secured by generous contribution of Fichidzhan  family from US, proceeds from charitable concert organized by Serine-Lyuba Tatevosyan with support of AGBU and fundraising action by Narek Aslikyan and Sarmagh Sakunc supported by Armenian diaspora. Pahapan foundation on behalf of all children benefited from this project expresses its greatest appreciation and gratitude to supporters for their kind will and efforts taken to collect the necessary funds. 
It will be our pleasure welcoming you for visiting the village and seeing the school you helped.
Mobile donating in Armenia and worldwide
Text 34 and send SMS to the number 7000 or donate by calling 0 9000 7000.
The cost of 1SMS/call is 500 AMD (USD1 approx.)